Services
We Offer Exceptional Services For Your FileMaker® Database Needs.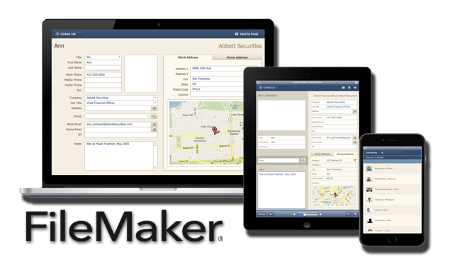 Custom FileMaker® solutions
We exploit the powerful features of FileMaker® Pro to create custom apps and solutions that work seamlessly across iOS, MacOS, and Windows® operating systems, and the web.
We provide solutions using all modern versions of FileMaker® Pro, FileMaker® Server, and FileMaker® Go™.
We also offer consulting services in setting up FileMaker® Servers (including cloud-based hosting services), and in modernizing, updating, and enhancing current database solutions.
Custom FileMaker® Web Publishing (PHP/Web Development)
We develop web-based solutions built on FileMaker® platform using PHP and other web programming languages.
We offer web development, integrating the FileMaker Solutions into the Web using WebDirect and Custom Web Publishing.
FileMaker® systems integration
We also do plug-ins and API development and interfacing to extend the feature set of FileMaker®-based solutions and connect these to other database systems, such as Oracle, MS SQL, or MySQL.
We also offer plug-in development to integrate hardware like bio-metrics, RFID, scanner, etc. to FileMaker® solutions.